The Southern Edge of the Northwest
Let's begin by going down the corridor between 95/Summerlin Pkwy and Charleston.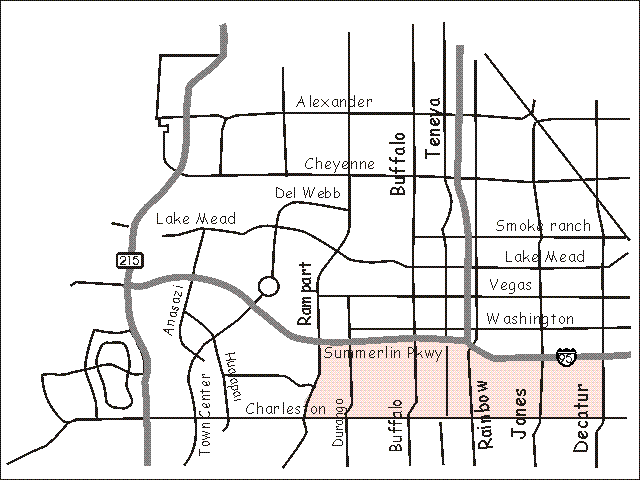 This is an older section comprised mostly of the large subdivisions known as Charleston Heights and Charleston Rainbow. These subdivisions began in the mid 50s and continued until the early 1980s working westward from Decatur to an ending at Durango. These homes are generally small and single story ranging from 1000 to 2000sf. They range is condition from the worst sort of fixer upper to very nice. The blocks vary widely and need to be examined individually. This is an area of potential starter homes…particularly for those who can fix up a downtrodden residence.
There are newer homes mostly on the periphery. The area west of Durango was built in the 90s and includes some very nice homes with views of Angel park.
Queensridge
Next is the elegant community of Queensridge.

This is a master planned community of 500 homes ranging in price from $300,000 to $5,000,000.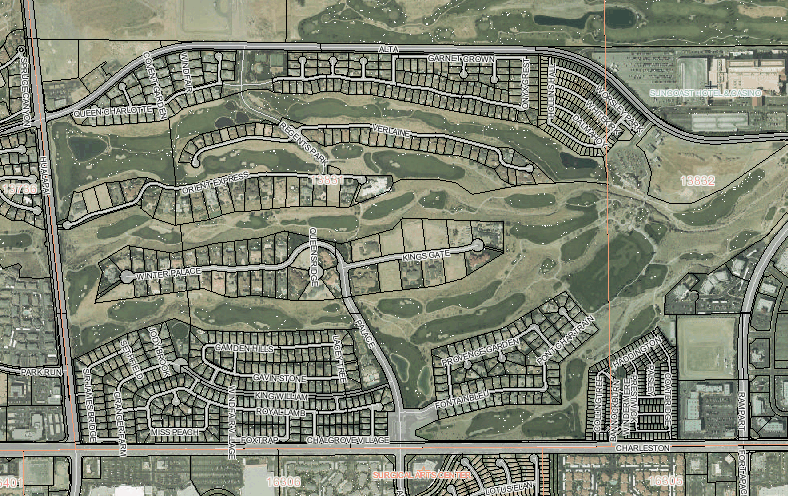 This community consists of a little over one thousand homes. There are about four hundred condominiums and townhouses and just over 600 homes. The condo/townhomes start in the mid $250s. The homes start above $500,000 and go to five million. A limited set are located on large lots on the golf course with exceptional views.
Most of the home areas are guard gated while the town homes and condos are gated.
Two striking high rise towers are under construction in the northeast corner of the property
Summerlin and the Western Edge
Proceeding west we next encounter the massive master planned community of Summerlin..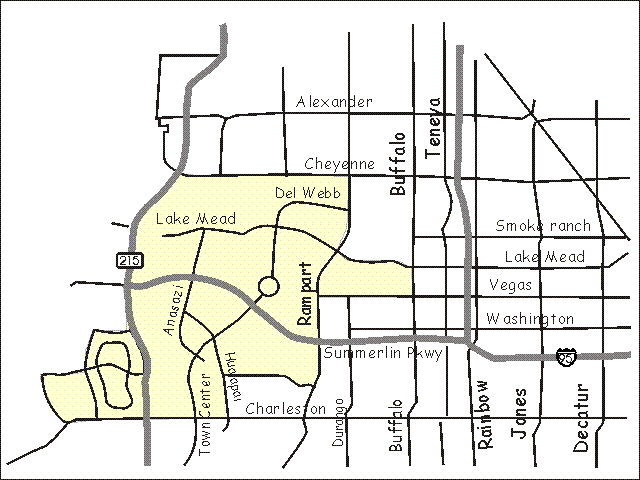 The northern half of Summerlin is generally considered part of the Northwest. Summerlin has its own pages whch can be found here.
Two Casinos, Rampart and Sun Coast with four golf course introduce this area. Boca Park at the corner of Rampart and Charleston is one of the fine shopping and eating areas of Summerlin…To start…
| | |
| --- | --- |
| PF Chang - Chinese with noise | The Claim Jumper-All you can eat and more... |
| Hannah's - oriental fusion and whatever | Kona Grill - Hawaiian specialties |
| The Cheesecake Factory | Roys - Asian fusion with a flair |
| Flemings - Great Steaks - with noise | The Bleu Deli - Gourmet subs |
A large variety of shopping is also available including Whole Earth - The Yuppie's best supermarket. .
Summerlin Proper is best covered elsewhere. A large collection of homes ranging from $200,000 condos to estates on the golf course ranging to $10 million or more.
Sun City Summerlin
The northern most section of Summerlin is Sun City Summerlin. This age restricted community has over 7700 homes, three golf courses and five recreation centers
An extensive site for Sun City Summerlin can be found here.